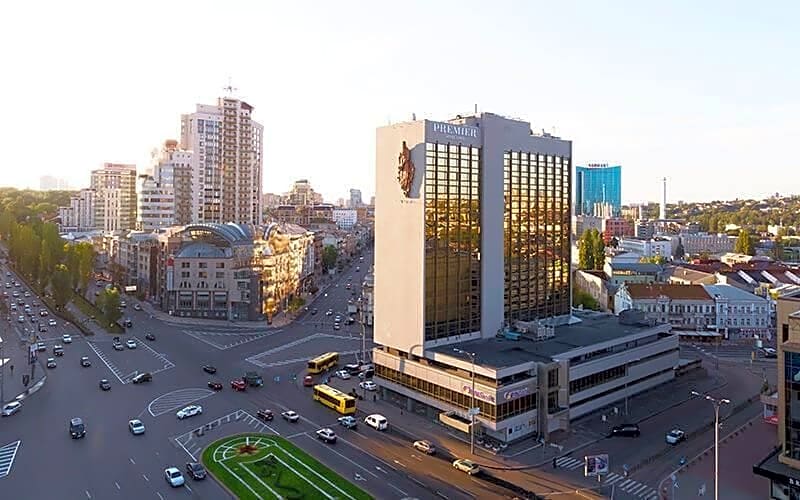 Premier Hotel Lybid is a charming 3-star property situated close to the centre of Kiev, within easy reach of many of the city's wonderful tourist attractions. Independence Square, Kreshatik Street, the Opera House, Golden Gate and St. Volodymyr's Cathedral are just a few of the popular sites to visit. Zhuliany Airport is a convenient five kilometres away and transfers to and from it can be arranged through the hotel.

The cosy guestrooms are bright and tastefully furnished with warm fabrics and contemporary furniture. Excellent in-room amenities included satellite TV, air-conditioning, a modern en-suite and most rooms offer great view of the surrounding city. At Premier Hotel Lybid you are sure to enjoy a relaxing stay while in Kiev.

The Lobby Bar conveniently stays open 24 hours a day, so no matter what time you arrive you can enjoy a refreshing beverage in a casual atmosphere. The welcoming restaurant serves both Ukrainian and International specialties and guests can enjoy their meal on the sunny terrace when the weather allows it.

ゲストレビュー
自分の意見や感じたことを教えるためにはこちらをクリックしてください >>
予約する方法
Premier Hotel Lybidで予約するのが簡単で安全でございます。ご希望の日付を選択します。そして、フォームを送信するために「料金を確認し」というボタンをクリックします。 客室タイプと料金はお宅の画面に戻った後で、画面の中央にある部屋の情報を読むと画面の右側にある「予約する」というボタンをクリックすることによって希望の料金を選択することができます。希望の客室タイプを選択した後で、「ご予約を完了」というフォームに転送されます。その時に「滞在の詳細」を確認して、「ゲストの詳細」という部分の空欄でご自分の詳細のことを書きます。ご自分の名前とメールアドレスが正しく入力されていることを確認してください。 すべての重要な情報を記入した後で、「ご予約を完了」というボタンをクリックしてください。ご自分のセキュリティを確保するために、私たちがクレジットカード番号を暗号化し、非使用可能な形式にエンコードする安全なコマースサーバーを使います。
地域情報
空港

Kiev, Ukraine (IEV-Zhulhany)

- 3.36 mi

Kiev, Ukraine (KBP-Borispol Intl.)

- 19.11 mi

ミュージアム

Bogdan and Varvara Khanenko Museum of Art

- 0.97 mi

Literary Memorial Museum of Mikhail Bulgakov

- 1.36 mi

The National Art Museum of Ukraine

- 1.65 mi